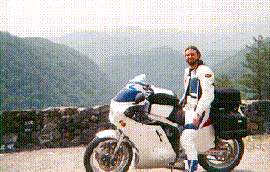 Alan's Bike obsession
No matter what my other eccentricities, I'm completely obsessed with motorcycles. I love to tour, commute, sport ride and still have Walter Mitty-esque racing daydreams. In addition to being a member of a few motorcycle organizations I also run some motorcycle related mailing lists, used to do a motorcycle blog and even tried hosting a podcast that covered the World Superbike race series.

I currently own:

'17 Triumph Tiger 800 XRxFor 2018 we decided to purchase new bikes, mainly so we could take longer post-retirement trips on newer bikes. After a few months comparison shopping we decided on matching Triumph Tiger 800 XRxs. Alan went for the standard frame. Thanks to a Triumph promotion the bike came with Expedition saddle bags and top box. Triumph accessory fog lights, heated grips and skid plate were added at the time of purchase.

'17 Triumph Tiger 800 XRx LowFor the new bikes Jonna selected the Low chassis version of the Tiger 800 XRs. The factory lowered suspension and low seat made the seat height comfortable for her. She also took advantage of the promotion to get the Expedition saddle bags and top box but also added the factory fog lights, heated grips and adjustable levers.

'88 Suzuki GSXR-1100J which is an ex-Team Suzuki endurance racer. In '91 I returned it to street legal condition, though cosmetically it still bares the scars of it's racing days. Despite it's shabby appearance, it's quite powerful (120 hp says Dynojet) and handles remarkably well. In fact, its even more powerful than that now since its had a Wiseco 1109cc kit installed since that dyno run was made. The engine is good but I've never gotten the 1988 spec front suspension to work well. In both power and handling, it is handily spanked by new sport bikes but it is still a hoot to ride and has loads of "character".

I've also created a list of bikes I used to have.

Return to Alan's Home Page
---
Alan Fleming